What a lovely week it's been so far hasn't it?? The weather has been really Spring-Like and the daffy's in my garden have come out at last. They were looking a bit short and squint the other week, but they've shot up and are bloomin' lovely! My tulips in my tubs still haven't come out yet, but there's still time I guess.
Onto today's card, and I'm using the lovely Forever Friends again. This Retro collection is just so sweet, and the colours are really appealing - so me!
This card is my inspiration card from the Creativity magasine - we are asked to show items from the mag when we're out in the stores, so this is one that I chose to do. BUT. I had to do it a little bit different from the one in the mag.
The background that you can see on the card was made using the embossing folder that comes with this range of products. But in the mag, Sheila has used Whitewash Coredinations.. and could I find mine?? Nope! So, I resorted to inking up the embossing folder with blue ink and then running it through my Big Shot.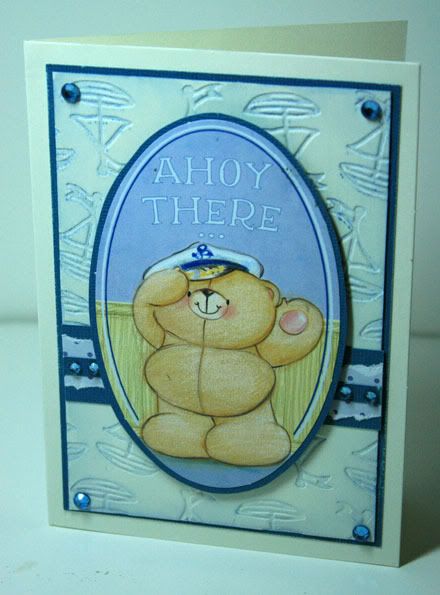 As you can see, it gave the background that little bit of bluey-whitey-sorta-fadey colour.. but I think it looks nice and it goes with the rest of the card.
I hope you like it too.