Hi everyone!
I've got a few minutes whilst hubby is out searching the DIY store, so I thought I'd nip on and say hello..
This week has been a bit manic so far - as you probably know, we've had family over from Canada and what a fantastic time it's been. Lesley and Gary arrived on Sunday evening and rang me as soon as they booked in the hotel, so of course I had to go and see them! It's been soooooo long!!! It was fantastic to meet up and spend some quality time together.
Anyway, on the Monday, it was Carley's birthday. And here is the card that I made for her.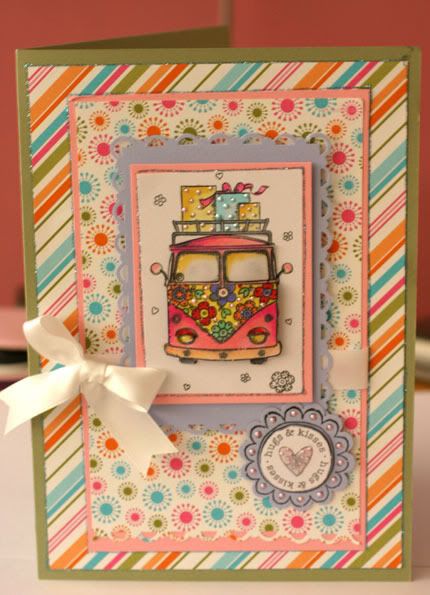 I chose some lovely bright colours for her card, as it represents her personality. There's not many things that get her down in the dumps, or irate, infact, I can only think of a few (one inparticular!) Haha. She is a wonderful person and such a loving character to boot. Happy Birthday Carley. We love you oodles! And it was lovely that Lesley and Gary were still here to share the birthday celebrations too.
So, for this card, I've gone for some retired papers from Stampin' Up (sob - I really love this pack!) and teamed it up with a stamped Caravanette. Her ultimate dream is to buy one and travel round the World in it. So, thought this image would be perfect.
The border punch is from the new Stampin' Up catalogue, and it has a corner punch to match. They are brill.. but practice makes perfect!
Right.. I'm going to make a move as hubby has just returned with his sanding pads.. lol.. so it looks like that means a busy afternoon!
Happy Crafting everyone!