What has happened to this week??? It is just absolutely flying by at the moment, and before we know it, it will no doubt be a couple of weeks to Christmas! I think at the last count it was 72 days to go.
The weekend was a nice quiet one, just sorting out bits and pieces and shopping - usual stuff. I didn't really get a chance to craft either, which is always a bit dissapointing I think. But I am certainly making up for that this week!
I did, however, manage to get a great couple of pictures of Holly and Scooby as they were snoozing on the sofa. Because it was evening, I had to use the flash and take the photos quickly before they moved.
Here they are - totally chilled out in snoozy position.This one is Holly .... most probably thinking 'instead of taking a photo, come and rub me tummy!'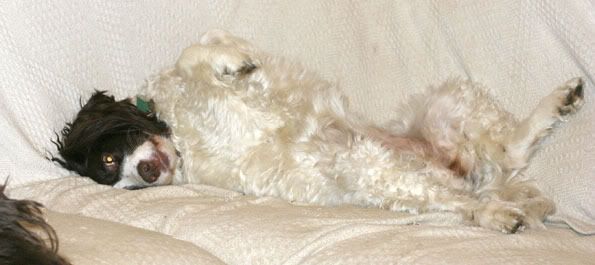 and Mr Scoobs... just look at his little flobby-chops... so cute!
Don't you just love the Dog's life?
Right.. must get going - I've got lots of samples and swaps to get on with for the weekend. I'm down in Peterborough with my fellow Stampin' Uppers.. lol.
Happy Crafting!