You know yesterday I was talking about Christmas?? Well, look what arrived...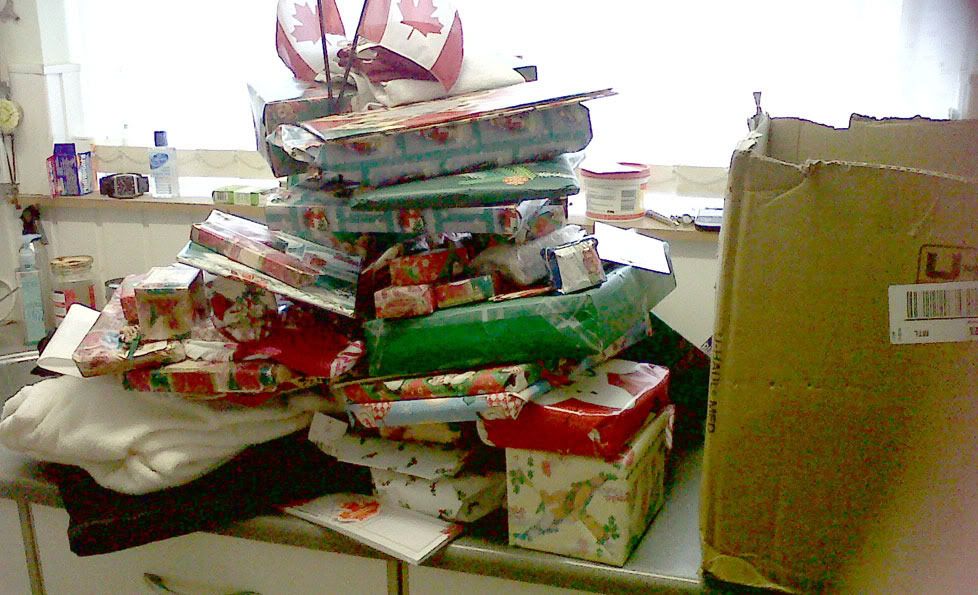 A humongous box all the way from Canada - filled absolutely choc-a-block with Christmas presents. My Sis Lesley is an absolutely wonderful person and I love her to bits!! Thank you so much Lesley, Gary and family - we love you all!!
Now here's a little hint of a card for you -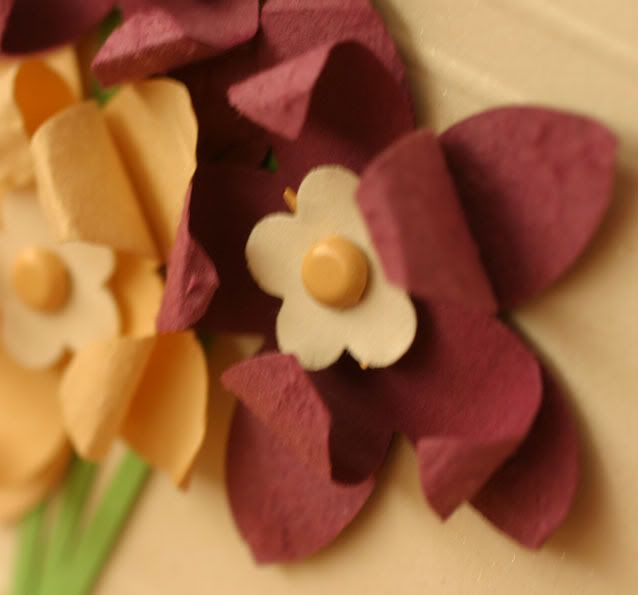 On Tuesday night, it was my Craft Class over in Edenthorpe. I was helped by my lovely friend,
Sharon
, and she was such a trooper all evening!
I made three samples for all the lovely ladies who came along to play, and I'll show them to you over the next few days.
The little hint above came from this card here.
The card base and top was scored to create some beautiful lines, and then layered up onto Rich Razzleberry cardstock from the current catalogue, and Barely Banana which has now discontinued. After the layers had been put together, we sprayed the card with the Champagne Mist Shimmer Paints to give it a bit of glitz and glamour.
You can see the paint shimmer here -
The flowers are made from the five petal flower punch and a little technique I showed on the evening. The card was finished with a length of taffeta ribbon (love that stuff!) and some Tiny Tags greetings.
Now, my special offer to you is a Kit by Mail
to make a full set of these cards.
I have put together a kit to include the supplies to make ten cards of this design.
The kit is at the fantastic price of

£30

(including free shipping). You can also choose
your own colourway. My colours are sent if no preference is made.
The five flower Petal Punch (worth £15.50)
Champagne Mist Shimmer Paint (worth £4.95)
Taffeta Ribbon in white (a full 9.1 metres worth £6.25)
150 Basic Rhinestones for the flower centres (worth £4.50)
Cardstock and envelopes to make your selection of cards, all
cut and ready for you to put together.
You will need to provide your own sentiments and adhesives, but these can be purchased
through me if you would prefer.
You can make payment by cheque or Paypal
(email joaustin22@aol.com for more information)
If you have any of the products in the kit, you can change them for something of
equivalent value.

I hope you like it.. i'll be back tomorrow with our second project!