Definately! In more ways than one!!!
I'm going daft this week with loads of bits of card chopped to all shapes and sizes, punched, stamped, and then stuck together! I'm counting down to going to Peterborough with other SU demonstrators and my friend, Sharon, to enjoy a day of crafting and chatter!
So, the second reason that I'm going batty is with this cute little fella...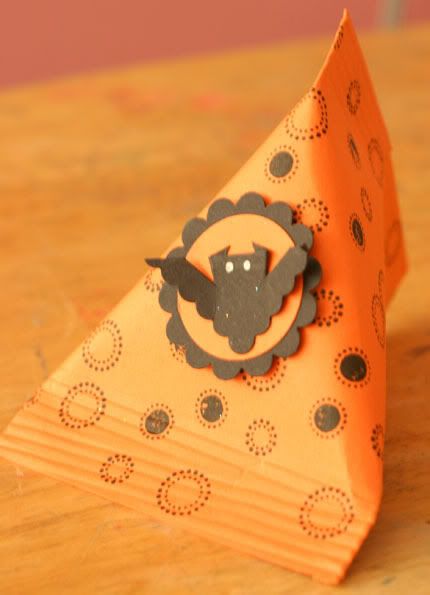 This is the little 'jubbly' style box that we made at our Workshop on Tuesday. The little bat was made from a scalloped square punch and a project I found on
Jo Dumbleton
's blog last year or so.. The box can be resized for any gift, and I stuck to two basic colours for Hallowe'en.. Pumpkin Pie and Basic Black. The stamp set is a retired one called Seeing Spots, which I love and still use quite often. I've used a Crimper to add detail to the edges, which is a new product to Stampin' Up in this new catalogue, and it's a whopping 16.5cm wide!! Perfect for any project that needs a little texture.
So cute!
I'll be back tomorrow with the last card that we made at the Workshop. And if you live in the Doncaster area, and would love to join us on a Tuesday evening, then just let me know and I'll give you the details.