Just in case you were thinking I was talking about me (!!) I am in fact talking about the Stamp Set that I've used in this card here..sorry for the fuzziness.. it was very early morning and I didn't want to use flash.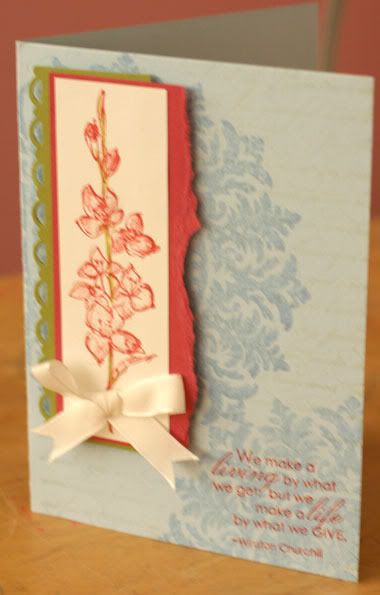 It's one of the stamp sets that I had the pleasure of preordering before the catalogue came out - and I am soooooo glad that I did, as it is in fact, fast and fabulous. Fast because it makes your projects come together easily and quickly, and fabulous, basically because it is! You have a range of stamps in the set from single flowers to this stem - just beautiful. And to get it, you just need to hold a workshop and make the sales target to recieve it!
That target is only £300 and you'll get a choice of some exclusive fabulous stamp sets that you can't buy, and also a minumum of £35 of free product from the catalogue. So if you'd like a workshop, then just email me - joaustin22@aol.com
Here's the close up of the flowers -
It is a two step stamping set but is really easy to use. I've used taffeta ribbon to decorate it up a little, and the colours are Bashful Blue, Rose Red and Old Olive. I also used the Medallion stamp and Le Francais to make the background.