I told you I was going to make time to do a few challenges, and I did! Last night, my daughter had her boyfriend stay over and I had a chance to get making a few cards and things.
The reason he was staying over was to a Christening first thing this morning, and I had a few things to make - card and gift, so I sorta combined everything to get them finished.
The challenges I've decided to do this week are a few I've not joined in for a while.
The first one was
Daring Card Makers
.. and this was their challenge from last Friday
It's "just what it says on the tin", we'd like to see some folds on your cards this week.
Fold the whole card, fold some paper, fold some ribbon.
Do some origami, teabag folding or just fold over a corner of your paper to reveal the other side.
As long as there's some sort of folding used as a feature of your card then it counts. Any subject, any theme, any reason.
I decided to make a Christmas card, using a fold I've not done for a while.
The papers and card is all Stampin Up. The papers are Holiday Treasures and the cardstock is Close to Cocoa. I am loving the chocolate and pink combination at the moment. I am thinking chocolate card is definately going on my favourites list!
I have also used my Stampin Up Round tab punch and finished it off with Craftwork cards dotty things and some pearly paint to decorate. The stamps are from the SU set, a Tree for all Seasons.
Here's an arty farty close up piccie for you -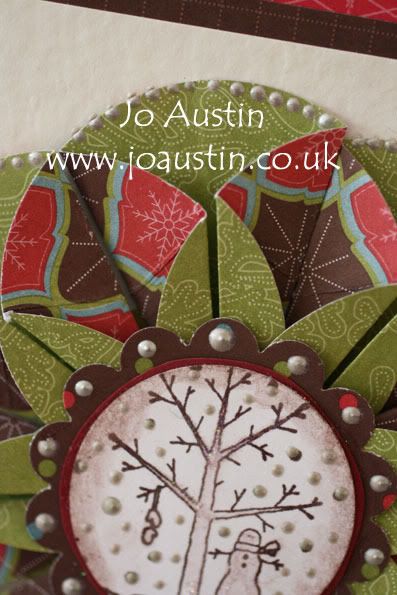 The next card I have to show is for the Copic Colour Challenge. I have made my lovely daughter Carley a birthday card, and used a stamp I bought last week from my shopping trip to Barnsley!
These are the deets for the challenge..
Wednesday, 30 September 2009
Challenge #33
Hello friends! Hope you have been enjoying the little Indian summer that has appeared over the last week or so. It's amazing how much better you feel when the sun is shining isn't it?

Thank you so much to those of you who took part in last weeks challenge. You worked brilliantly with the colours we set you and you made some gorgeous creations. Lets hope that you managed to do the same with this weeks colour combo......
Remember, if you do not have the exact colours we've listed above, please just use something that looks close.
I didn't have the exact colours so I used the colours I had nearest. Here's my card -
I love this image - it reminds me so much of Carley with her plonk! hehe.
Again, the papers are Stampin Up Haiku (not sure what the background one is, I'll have to take a peek). The image was coloured with copics (obviously.. lol) and the little flowers were made with the X Cut punch. I added a bow with Certainly Celery SU ribbon.
.... another arty farty angle -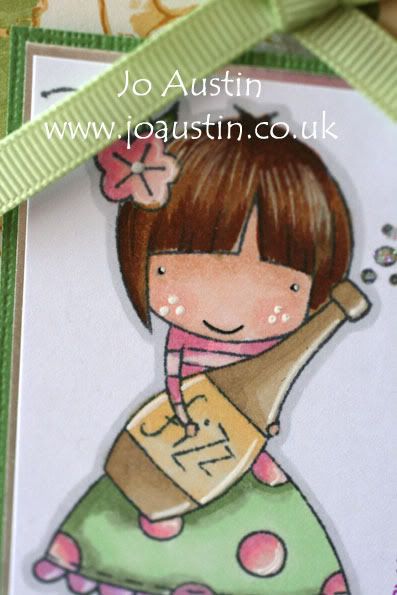 That's all for now.. more later!