What fun I had the other day. Paul was sat watching motor racing on TV, I'd done all my housey stuff, so I thought I would sit and make some bits and pieces. I borrowed the Flight of the Butterfly Stampin' Up set from Sheila and set off my epic adventure. lol.
This was the little bag I made which holds a set of four love notes. The colours are not brilliant, and I'll change the photos when I get chance to edit them. However, just in case you're wondering, the colours are Creamy Caramel and Pixie Pink.
Here are the cards all together with the box.
I decided that I really wanted to show what you could do with the border punches, so I made a set of four cards using the border punch in a different way on each card.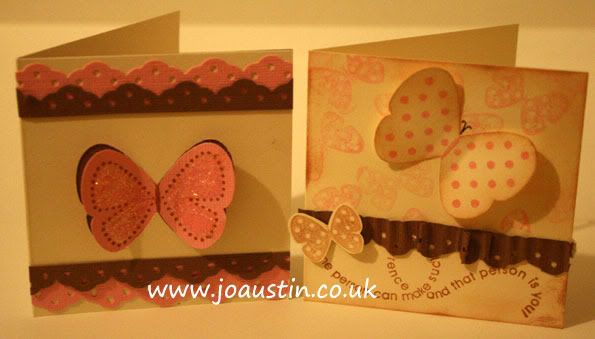 On the cards above, the left one I've punched two borders, one in each colour and overlaid them to create an edge to the card. The right one has the punched border run through a ribbler to create a ribbon-like effect.
Plain and simple on these cards. A straight border on the left and a border punch frame on the right. Simples!
In addition to this little collection, I also made two smaller boxes. These ones are ideal for gift cards or for those little bits of jewellery you need a box for.
These two measure around two to three inches in height. Tiny!
This blue one was run through the sizzix to add a little texture to the cardstock. Again, the photo isn't brilliant as it was taken in the evening and I don't like using flash. The colour of this one was Ballet Blue.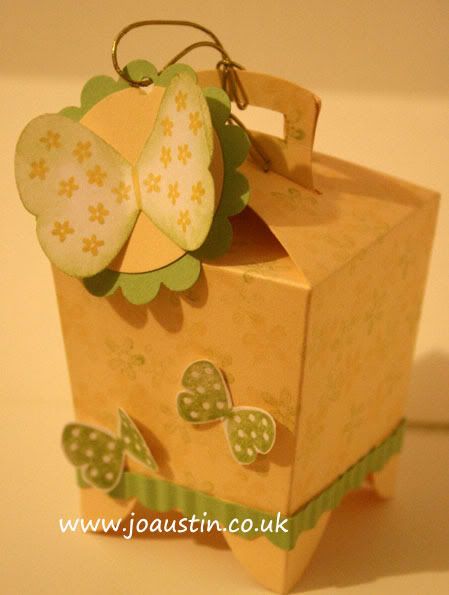 Now then, out of all my little boxes that I've made, this one is my favourite!! I love all the quirky little bits on it. I used Barely Banana and Certainly Celery colours as I love that colour combination.
So.. that's it for today. I hope you like my little boxes!
See you again soon. xx