Hello all.
I told you I'd be back didn't I?
As promised here is what I got upto last weekend.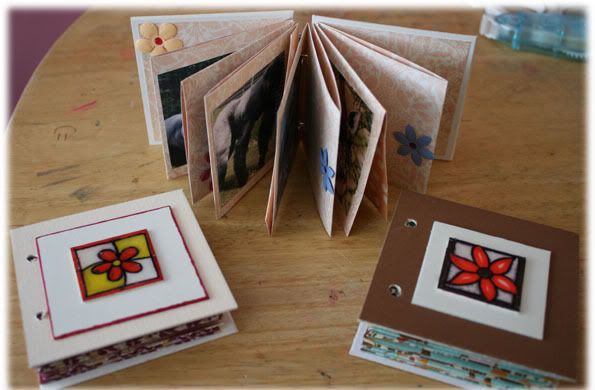 The 1st May saw another Dabble Day over in Bawtry for the lovely Kim Sutton. It was great fun and there were around 80 crafters in total, which was fab. I was joined there by Ali Higginbottom from Dimension Fourth, Kim and Jon from BCE, and Michelle Marsden. What a lovely group of ladies eh?
It was so busy that I didn't get a chance to see what the other tables were making, but this little mini album is what we were doing on ours. I was assisted by the lovely June. What a joy she is to work with. Thank you for the help June, it was invaluable.
This is a little close up of the front of the album. We used mount board to create the album, and a sheet of 12" x 12" double sided paper for the inside. The little decoration on the front was made using a peel off which had been coloured in black, and the design coloured with permanent markers. We then UTEE'd it three times to give it a really glassy look and stuck it onto the album.
One hour and twenty minutes later, all albums were made, decorated and embellished with punched decorative flowers! Done! How good was that?!
The day started at 9am and finished around 6pm, and then Kim took us for a meal over in the Red Lion in Blyth. I got home around 10.15pm, had a natter with the hubby and went to bed! I was tired out.
Thank you to all you lovely ladies that were there, who made it a perfect day. Some faces I knew from previous Dabbles, and some were new, but knew me.. which seemed wierd! lol.