How are you all?
Just playing catch up really with a few of my posts.. and I'm scheduling as I go. I'm not sure what day I'm upto at the moment.. but today is Saturday the 10th, so I reckon it could be a few days yet until this one goes live.
Anyhow.. this morning I was doing a demo even though my poor pupster Truly was at the vet. She was really off colour last night, and today was told she has an ear infection. I rang hubby as soon as I could to find out what was wrong as I was so worried about her. Anyway. She's home with antibiotics, painkillers and drops.. and no doubt on Monday yet another vet bill to match Holly's.. I've spent so much time at the vets this last few weeks, I reckon I'll just move in! lol.
Anyway.. Hot foiling.
This is QUICKLY becoming one of my favouritest techniques. I can even use my stamps.. how fantastic!!
Here are a few samples for you.
Here's one of the cards I made. I treated myself to some of the new PM embossing folders and they work fantastic with the hot foiling system too!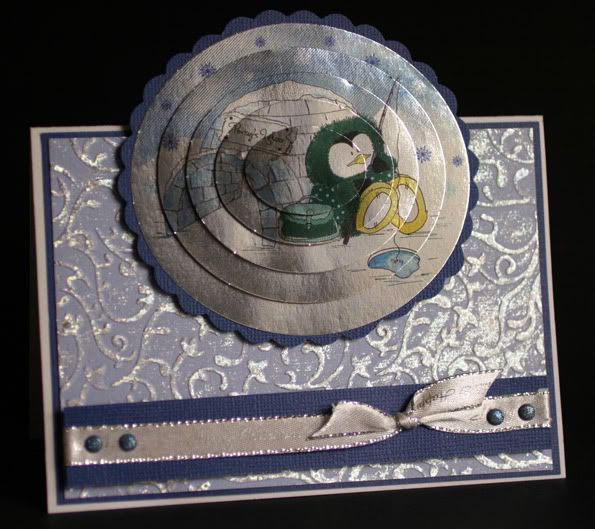 and here's a little close up. It shows the distressing quite well I think.
This was the foiling system used with stamps. Pretty good eh??
Right.. onwards and well.. onwards.. lol. I'll go and see what's left in my Photobucket to show you next.
See you soon!