This week has been just work. That's all. Nothing more, nothing less. But I've been quite productive so I'm not complaining. All my handmade cards are now made and sent, in fact, so are my bought ones. So, other than the MOT for the car tomorrow, I'm well on track for the festivities!!
On Saturday, I was working down in Sheffield at the lovely little Craft shop with Jane and the Girls. We had a Christmas Special craft class and it was great - complete with mince pies too.
Between then and now, I'd been preparing the last Craft Class of mine before Christmas. It was our last evening yesterday, so I bought plonk and munchies and we had a great time. I will show some photos of what we made another day.
But for now, here is a little project from last week.
This simple layered card is one of my favourites for this christmas. I used an image I've had for a few months, but only just decided to ink it up as I really couldn't have a doggy picture missing from my Christmas cards could I?
The papers are from the lovely Bella Blue pack from Stampin' Up.. I'm really low on stocks of this now, so I'm being quite cautious with it. However, I do have some other wonderful ones to use too.. they're all double sided too, so the colours just go so well together don't you think?
The satin ribbon and rhinestones are SU too. Here's a close up -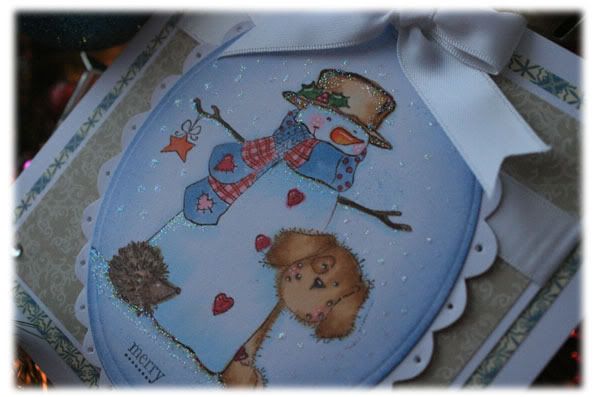 l added a bit of glitter onto the card for falling snow.
I hope you like it as much as me. I'll be back tomorrow with another one of my Christmas cards.
See you soon!!