Brrr... it's not showing any signs of getting any warmer sometime soon.. I'm f-r-e-e-z-i-n-g!!!
As promised yesterday, here is another little Snowman to show you.. or should I say Snowlady??
This one I decided to colour in purple tones (won't my friend Nikki just love this?!)
l decided to use Aqua Promarkers to colour this one so I could get the washed out type of look and I think it's worked quite well.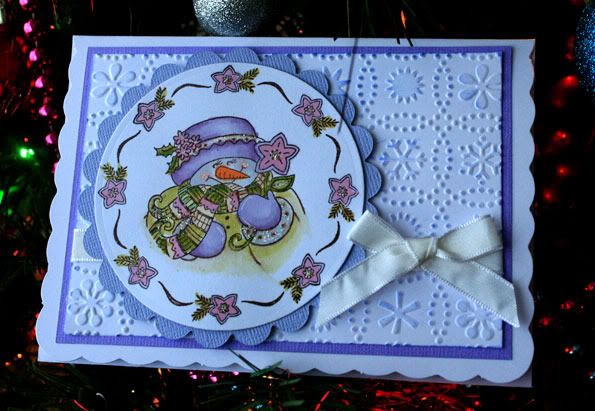 The background was an embossing folder and brushed over with Almost Amethyst from Stampin' Up to pick out some of the embossing. I used the wonderful taffeta ribbon to tie my bow - luscious or what?!! Have you tried it? It's lurrrrvely!!
In fact, all of Stampin' Up's ribbon is fantastic.. and I do have quite a collection of it too as the price is not to be beaten.
Anyway, onto my sneak peek for my card tomorrow.. and here it is..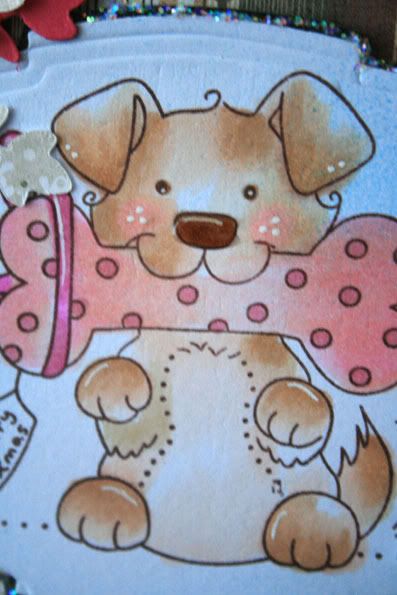 Yes. I just had to do it. A cute doggy card. See it in full tomorrow.
Hope to see you then!