As I said the other day, it was my lovely Sister in Law's birthday the other day. I forgot to post the card as I had been working all weekend and had set off at some ungodly hour on Saturday morning to get to County Durham.
Anyway, here is the card that I made. I can show you now as she should have had her birthday card and gift. (I hope!)
I used a few new bits of stash for this card, the stamps are new and so is the paper. But the colours went so well together. The cardstock and ribbon is Stampin' Up.
I have used copics to colour, and brush blended the pink and yellow on her dress. I'm sure there's a name for this technique, but not sure what it's called.
Here she is in more detail.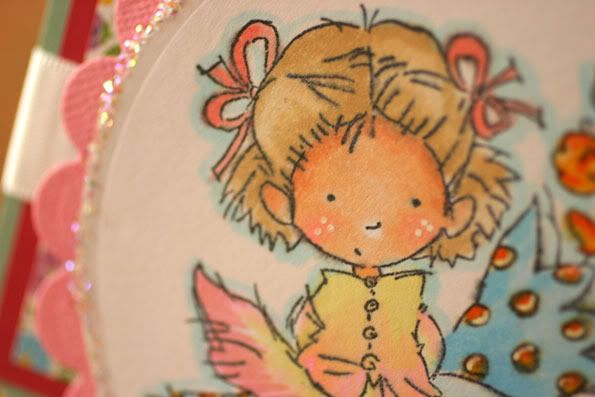 Isn't she sweet? I have rather a large (!!) collection of these LOTV stamps - they are just so cute and lovely!
I hope you had a great birthday Tilly and sorry for the lateness of your card and gift. I bet I know what you'll be doing this next weekend... I bet you're making a start on your Christmas cards! lol.
Tomorrow, I'm off to Manchester for my Stampin' Up regional training.. so I've got all my swaps made, sorted and ready to go.. and will share those over the weekend if I get chance to come back online before then!
Love to all for now, Happy Crafting!
2010-2011 Catalogue PREORDER YOUR COPY NOW £3.99 price includes delivery.