Yep. It was really busy.
My demo on Saturday was changed to Sunday because the store had double booked, but just as I was starting to think of all the nice things I could do on my day off, I got a call to ask if I could cover a demo up in County Durham.. well, I could have said no, but as I love my job I said yes. So. A very long drive upto County Durham I had. I even took my camera but there wasn't anything to photograph on the way which in itself was quite funny.
I had a really lovely day with the staff and customers. They were all so very lovely. And I promise that the tutorials will be coming this week!
Sunday was my rearranged demo, but suprisingly it was quite busy all day. Thank you to those ladies that took the time to come back again to see me. You're all truly special people and it was lovely to see you all!
Monday was just a nice relaxing day - and was my Sister in Law's birthday! But.. as I had been unexpectedly busy at the weekend, forgot to post the card. So I promise it'll be in the post today with your present. And I am sure you're going to love it, Tilly!
Carley was also back home yesterday, she's having a week off work getting ready or a few days away with her fella. She flew out this morning from East Midlands and I'm sure that she's going to have a lovely time. But I sure will miss her even if it is only for 3 days I'm not going to see her! I spent the day making Hallowe'en invitations for an order I had. I will show you some samples tomorrow.
For today, I'm at home again just finishing off some samples for the weekend. I'm over in Brigg on Saturday, and a repeat demo in Derby on Sunday.. so another busy weekend.
The card I have to show you today is one that I made for the Docrafts website quite a while ago. I was sent on some quilling sets, and this is one of them..
I was completely flummoxed as to what to do with it so racked my little brain, and this is what I came up with.. and I love it!
I have made a few more projects for the site too, including a flowery hat, and I have more to do as soon as I can.
Quilling is one of the things that I love doing. I can't sit and do decoupage in front of the TV, but quilling I can.. time consuming, but I enjoy it. In fact, I have just finished a luvverly collection of projects for the next Creativity magasine.. but obviously I can't share those at the minute. But as soon as I'm able, I will. They are a completely new item that I've used... and they're stunning!
Anyway.
Today, I will leave you with this little photo of my lovely Mr Scoobs.. isn't he just beautiful. I'm sure he's like a good whisky - improving with each year.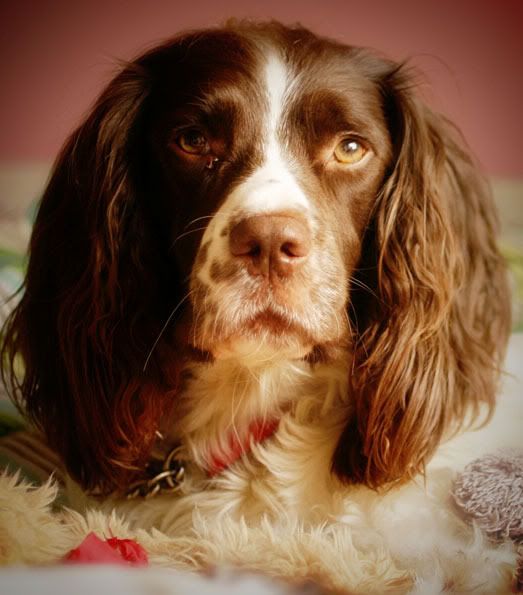 And finally, a funny little photo of him.. Honestly, he's so daft sometimes!
Carley was at an Evening wedding reception the other day, and the bride works at Specsavers.. so everyone was given a pair of glasses.. and these were hers.
Right. That's me off for now.. Happy Crafting everyone!
2010-2011 Catalogue PREORDER YOUR COPY NOW £3.99 price includes delivery.