Spooky cards today as promised.
I was asked a couple of weeks ago to make some Invitations for a little girls 5th Birthday party, which is at the end of October, so a Halloween themed Fancy dress birthday party is the order of the day.
These are the samples that I made.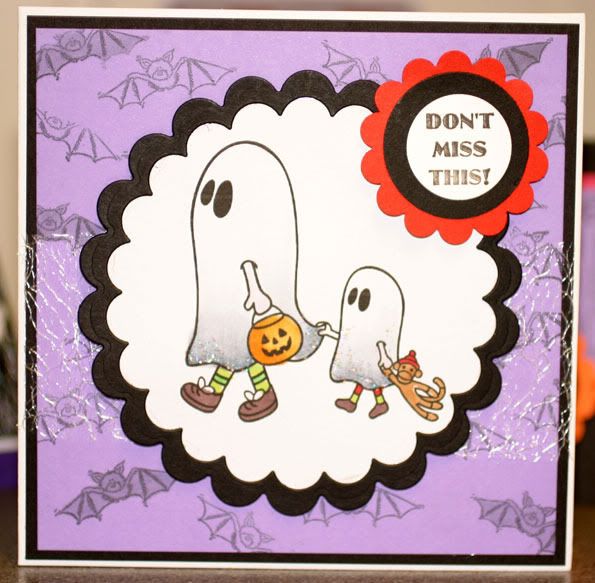 This little Ghosty image is so cute isn't it?The white fluffy stuff behind the image is some new material I bought on Sunday. I was at my demo when a lady came over to watch. We were talking together with the other ladies, when she mentioned about this fabric that she'd bought from the textile section. Another one of my lovely ladies went and bought some and as soon as she showed me, I knew I needed some! Isn't it fab??
Here it is again on this card below -
I've added some glitter glue underneath to give it a bit of shine. Isn't it lovely? And at only £1.50 per metre, you get absolutely loads!
I love the little images that are on these cards too. They are downloads that I purchased
(and I don't really do digi downloads, but needs must!)
This one above must be my favouritest.. but then, I like all of them as much as each other really.
I coloured all my images with copics. With this last image, I made her little dress look fluffy with a simple copic colouring technique I came up with. It makes it looked flocked.
Well, I'll leave you with these cards today. I have a quite a bit of work to get done today, so I should get started really.
Hope you visit again soon!
Jo x
2010-2011 Catalogue PREORDER YOUR COPY NOW £3.99 price includes delivery.