Yesterday was a very special day for a very special friend.
I have known Sandra for quite a few years now after meeting her at a Business Course we were doing. We became quite good friends, and I was absolutely delighted for her when her dream of opening a Bridal Boutique reached fruition.
She has now been in business for a few years, well, around five, and had decided to move premises for one reason or another. Sandra now has an absolutely beautiful shop in an area that she loves, and I am sooooo happy for her. Things haven't been too good for her this year with her health, so I am delighted that she's finally achieved her dream.
So, whilst I was visiting her yesterday for the open day, I took her this little card -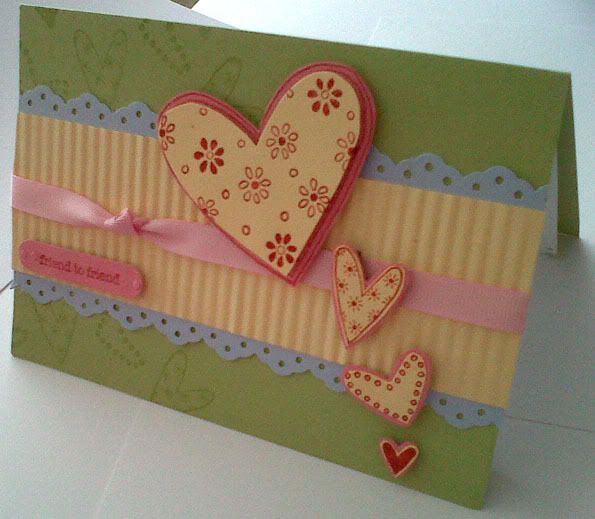 I love this stamp set, and I am so pleased that it's made it into the new Stampin' Up catalogue again (if you want a copy, order it below). So, I thought it was the perfect set to give her a personal card.
I also got her some flowers, and a Duck Egg. Yep. A duck egg. I like to give presents that are a little quirky, and when I was getting the flowers my mind sorta went off on a tangent, and I started thinking of what else I could give to celebrate New Beginnings. So. I bought an Egg. It's a real duck egg, and my thoughts behind it were to make her laugh (we love to laugh!!) and to celebrate her new beginning in her shop, something that she will cherish and nurture and make her own - just like an egg needs to be nurtured, cherished and loved to make a duck!
Well.. she just howled with laughter - so my job was done. We had a laugh, and a cuddle or two, and I told her how proud I was of her.
Well done Sandy, you're a real treasure and we all love you and are glad things are working out! xx
2010-2011 Catalogue PREORDER YOUR COPY NOW £3.99 price includes delivery.